Alright, lets give this a shot! Thanks to everyone who followed my little adventurous(ish) self over to Blogger. But enough with the welcomes, lets just jump right in shall we?
So, in a short re-cap, I've recently gotten back into sculpting. I use primarily Polymer clay (Super Sculpey to be exact) and after attending Designer Con here in L.A. and seeing all the awesome original vinyl-type toys there got me REALLY interested in the possibility of casting my own sculpts.
So, as I had a week or so off work, I decided to jump in. I grabbed some 'Smooth-On' Liquid Rubber for mold making, and some clear resin for casting. I don't know how well they'll work, so I can't give any critique on the products themselves just yet.
And Here are two sculpts that I'm starting with: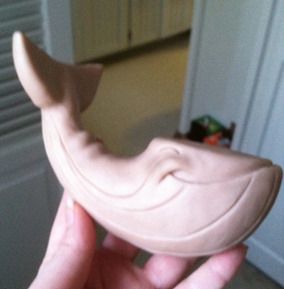 The Whale is still a WIP (Modeled from the "Happy Whale" image that can be seen in my Blog Header.) This will be a bit trickier to cast since the fins (that haven't been sculpted yet) Will have to be molded and attached separately.
So instead, I'm starting with something simpler: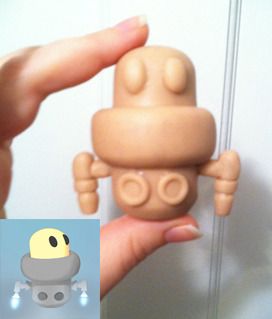 This is 'Bip,' a character from my husband's 3D animated Thesis film. He should be a bit easier to start with. I did tweek the design slightly, mostly to the rockets or 'arms' of the character as the small detail would have made those pieces much more brittle in the long run.
SO! There's my start. I plan to bake 'Bip' soon, and once I get everything ready for the mold I'll be jumping in! Wish me luck and thanks again for joining me over here on Blogger!
-Kata